Zanetti Platform Bed Espresso
Zanetti Platform Bed by Strata Furniture
This distinct headboard incorporates inset grooved panels framed by beautiful decorative post. Available in Espresso, the Zanetti's striking design will be the focal point of any room. The Zanetti is an easy-to-assemble model featuring hidden hardware, a durable slat system and a well-built frame. The Zanetti is available in Twin, Full and Queen sizes.
Our platform bed line features not only unique and exciting designs, but quality construction and ease of assembly. As with all Strata products, the platform line utilizes hidden hardware and top quality hardwood.
Dimensions
Twin: W42.88"xD79.125"xH39.5"
Full: W57.88"xD79.125"xH39.5"
Queen: W63.88"xD85.125"xH39.5"
Mattress must be purchased separately
Minor Assembly Required
Please note that images are for reference only. Mattress has to be purchased separately if not stated otherwise.
Manufacturer:
Strata Furniture
Many futon companies today have become so concerned with being the cheapest they have lost sight of the important details of creating lasting furniture. At Strata they feel futons should have the look of conventional furniture with the versatility of a futon. Strata believes consumers should get a high quality product at a fair price. Of course, there are less expensive options, but as the adage says, You get what you pay for . All too often, a person buys an inexpensive frame and due to poor construction and/or design, their new purchase has already failed them. With Strata, spending a little extra guarantees a long lasting addition to your home.
Strata offers many distinct advantages over any other futon frames. Most importantly, all their frames feature a patented front-loading, wall hugger mechanism. This allows conversion of the frame from sofa to bed without moving the frame away from the wall. Who wants to move a heavy frame and mattress from the wall in order to go to bed? Place the frame next to the wall and the front loading mechanism allows you to convert the frame from sofa to bed quickly and easily. Unlike typical futons, having a wall hugger ensures you will not scratch or dent your walls. As they say at Strata: Are Your Walls Safe? Comparing the competition will leave only one brand of frame standing-and not moving-Strata Furniture.
Strata offers two distinct collections of frames. Signature Collection features frames with a finished back. Strata is the only futon company that offers this unique design. The finished back combines the look of a conventional sofa with the versatility of a futon frame resulting in a piece of furniture that looks beautiful from any view. In the bed position, these stunning frames appear more like a daybed than a futon.
Carriage Collection continues our tradition of stylish frames with unique designs. These frames incorporate the same patented front-loading, wall hugging mechanism used in the Signature Collection. The hidden hardware, wide variety of finishes, and sturdy construction make our frames unequaled in the marketplace.
Strata frames are built at a quality manufacturing facility according to rigid standards and quality control procedures. Strata expect each product to not only look great and operate smoothly, but also to be extremely well built and to last.
Strata Furniture frames are well-known for their strength and construction. Their product design utilizes more wood to ensure durability and comfort by better supporting the mattress.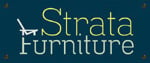 More from Strata Furniture