Tribeca Urban Oak Futon Frame
Tribeca Hardwood Futon Frame
Frame Dimensions:
Full Size: Sofa 76"L x 37"D x 34"H; Bed 76"L x 54"D x 34"H
Queen Size: Sofa 82"L x 38"D x 37"H; Bed 82"L x 58"D x 37"H
Chair Size: Sofa 30"L x 37"D x 34"H; Open 30"L x 54"D x 34"H
Twin Lounger Size: 41"L x 37"D x 34"H; Open 41"L x 75"D x 34"H
Full Lounger Size: 56"L x 37"D x 34"H; Open 56"L x 75"D x 34"H
Frame Features:
Accommodates 2 sliding drawers under the frame
3 lock positions (couch, lounge and bed)
Larger stretcher rails for better support
Steel plates on front & back stretcher bars
Friendly assembly instructions
Available Finishes:
Java
Chesapeake
Urban Oak
Rosewood
Items Included:
Futon Frame Only
Mattress, Pillows and Covers sold separately
Please note that images are for reference only.
Suggested Category

Get a complete
Futon Set
and save. Futon sets include a frame, a mattress, and a futon cover of your choice. We'll even include a
Non-Slip Pad
at no additional cost.
Product Type:
Futon Frames
Manufacturer:
Prestige Furnishings
Size

:
Chair, Full, Queen, Twin Lounger
Finish/Color

:
Light Brown
Customers Also Viewed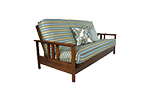 Futon Sets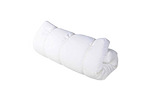 Futon Mattresses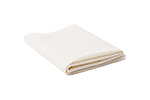 Non-Slip and Grip Pads
Since 1997, the name Prestige Furnishings has been synonymous with quality, comfortable, high value futons, futon covers and functional furniture. They know that customers have many choices. That's why they work so hard to make sure that we're not merely a choice, but your best choice.
Whether you need a slip cover for a cot, chair, bed or a multitude of other things Prestige Furnishing has something for everyone! Featuring three sided zippered closure to make sure it fits snuggly on all of your pieces. Prestige offers covers for everyone's needs and promises to impress your visitors. Update your furniture today with stylish slip covers or pillows from Prestige Furnishings.
Prestige is a trusted name in furniture industry.

More from Prestige Furnishings