Wool Wrap Cotton And Double 8 Inch Futon Mattress
Wool Wrap 8 Inch Futon Mattress by Gold Bond (613)
Bringing Together Cotton and Wool.
One of the world's most durable and luxurious futon mattresses, the Woolwrap futon mattress Features 50 lbs. of cotton combined with superior New Zealand Virgin wool. Chosen specifically for it durability, wool is the most resilient natural fiber and perfect for use in mattresses. Its tightly interlocking curls and strength enhance the longevity of the mattress, while its soft, springy fibers trap air within- making it an efficient insulator. The wool encapsulates two 1.5" layers of supportive high density foam and a dense cotton core designed to provide outstanding comfort. This mattress is best suited for Bi-Folds and Platforms beds. The wool wrap has a solid feel and is ideal for people who enJOY sleeping on a firmer mattress.
Features:
100% JOY ® Cotton Batting
Dense Cotton Batting Surrounds the Foam Layers
Two 1.5" Layers of High Density Eco - Friendly Foam by CertiPUR-US
50 lbs. of Cotton Surround the Foam Layers (Based On Full Size)
Plush 2" Layer of New Zealand Wool Creates an Ideal Insulator, Keeping You Warm in the Winter and Cool in the Summer
Available Sizes:
Chair: 28" x 54"
Ottoman: 28" x 21"
Twin Split: 39" x 54"
Twin Ottoman: 39" x 21"
Loveseat: 54" x 54"
Love Ottoman: 54" x 21"
Cot: 30" x 75"
Twin: 39" x 75"
Full: 54" x 75"
Queen: 60" x 80"
King: 76" x 80"
Comes with 10 years manufacturer warranty.
All mattresses by Gold Bond meet Flammability Standards (CA 117). Foam is certified environmentally safe by CertiPUR-US®.
Please note that mattress sizes and images are for reference only.
Suggested Add-on

Fully protect your mattress by using
Protect-A-Bed
Bedding Protectors. Protect-A-Bed protectors give you a complete bedding solution for your mattress, box spring and pillows. You'll rest easy knowing you have a healthy, allergy free or bed bug free sleep zone.
Warranty

:
10 Year Warranty
Mattress Construction

:
Cotton, Foam, Wool
Size

:
Ottoman, Chair, Twin, Twin Split, Twin Ottoman, Full, Loveseat, Love Ottoman, Queen, Eastern King, Cot
Mattress Type

:
Futon Mattress
Customers Also Viewed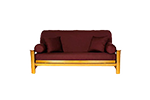 Futon Covers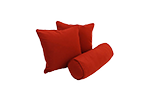 Throw Pillows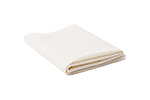 Non-Slip and Grip Pads
In 1899, Gold Bond began making mattresses in a four-story brick building a stone's throw from the Connecticut River in Hartford. As Gold Bond grew, they introduced their own specially blended cottons and wider distribution. As the word spread about their luxurious mattresses so did the orders. Gold Bond's unique methods, pure cotton and hand-made components has reached perfection, and continues to touch newer bars.
Today, Gold Bond is not only known as a superior quality leader in the mattress industry, it is also world renowned for making the finest futon mattresses. Gold Bond futon mattresses allowed Gold Bond to diversify into a niche market where they knew they could provide superior quality and comfort. Gold Bond led the way into high quality, highly comfortable futon mattresses. Following Isador Naboickeck's dedication to comfort and consistency, again Gold Bond pioneered the way to thicker, more substantial futon cushions that fit America's void for a luxurious sleeper sofa.
Beginning in the 1980's the demand for futons literally exploded and continued to expand with Gold Bond correctly poised in the middle to provide a superior sleep product. Today, Gold Bond remains the most recognized name brand in futon mattresses. All the while, they have stayed true to their core ethics of providing mattresses that promise quality, comfort and longevity.
Futonland proudly continues its relationship with Gold Bond for more than 15 years. The consistency in quality and service is the main factor behind their successful contribution to furniture market.