Austin Deluxe Queen Cabinet Bed (Murphy Bed)
MAHOGANY Ships in 24-48 hours
Save up to $150 on White Glove Service with code CBCBWG
Made in Canada
Quantity:
Austin Queen Cabinet Bed by CabinetBed
A Cabinet Bed is your space-saving sleep solution. It has a unique patented mechanism and it's more affordable than a Murphy Bed or a Wall Bed. Cabinet Bed takes less than 10 minutes to install and can be moved easily, 6 bolts to separate it. This plywood Cabinet Bed is free-standing and doesn't have to be screwed to the wall. It can support a 60 inch TV when closed. It has an easily opened hinged front and no mechanical parts.
Features:
Grooved Front Panels
Queen Size
1" American and Canadian birch plywood construction
Largest storage drawer (59"L x 18"D x 9"H)
Premium hardware and hinges
Supports up to 500lbs
Made in Canada
Dimensions:
Queen Cabinet Bed: 66.5"W x 25.25"D x 42.5"H (Open 82"L)
Mattress Dimensions:
Mattress:
Certipur Gel Memory Tri-Fold Mattress w/Bamboo Cover (Imported)
CabinetBed only uses CertiPUR-US® Certified foams tested to meet rigorous standards for emissions, content, performance, and durability.
Austin Cabinet Bed comes with 9052 Hardware.
Please note that images are for reference only.

* Offer valid online only and may not be combined with any other promotions. Shipping address must be within the 5 boroughs of NYC. Other restrictions may apply.
Frequently Asked Questions
Product Type:
Wall, Murphy and Cabinet Beds
Quality, Convenience, and Comfort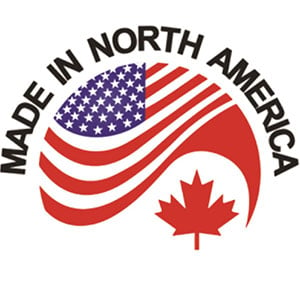 Made in Canada
Handcrafted in our state-of-the-art assembly facility in Vancouver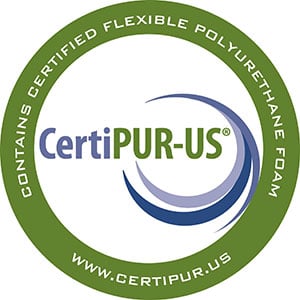 Environmentally Safe
Mattresses are certified environmentally safe by CertiPUR-US®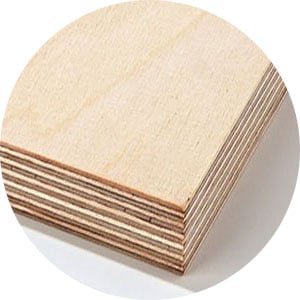 Solid Plywood
Made with formaldehyde-free North American Birch Plywood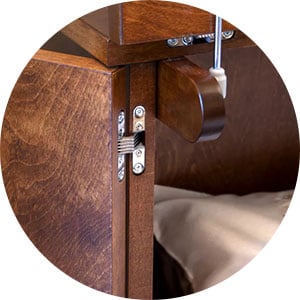 Premium Hardware
Hardware and hinges are manufactured and sourced from Canada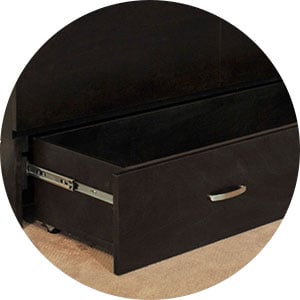 Large Storage
Large storage drawer perfect for pillows and bed sheets
Your Space Saving Sleep Solution
Cabinet Beds offer options that Wall Beds and Murphy Beds cannot. These self-standing units are not attached to the wall and can be moved. Unlike most Murphy Beds that are attached to the wall, should the owner decide to move, they can take the Cabinet Bed with them. The Cabinet Beds fit a 60" inch TV perfectly. Each Cabinet Bed comes with two gas struts on the lid that prevent the lid from hitting the TV in its upright position. They also prevent the lid from falling down. The Cabinet Bed can also be pulled out 2/3 of the way and be configured into a "sofa" allowing the room to be used as a recreation space.
From a setup perspective, most Murphy Beds arrive as a knockdown (RTA) piece requiring a 1 to 3-hour setup, depending on the experience of the assembly team. The Cabinet Bed takes less than 15 minutes to set up. It arrives in two pieces, a hutch and a drawer pack. You just have to place the hutch on the drawer pack, put in three hex bolts on each side, level it, and it's done.
Cabinet Beds are extremely durable and designed to endure the heaviest loads, which is why each Cabinet Bed is rated to support 500 lbs. All of the overbuilt hinges have been manufactured in Vancouver. The rest of the hardware have been sourced from Canada, making the replacement parts readily available. This Cabinet Bed comes with a full 1-year non-prorated warranty. Mattresses come with a 10-year non-prorated warranty.
Every Cabinet Bed is handcrafted of solid birch plywood from Oregon state, manufactured in Vancouver, Canada. Completely North American story. With no MDF at all! Based on over 20 years of experience manufacturing furniture in Canada we strongly believe, that plywood construction is the strongest and most stable. It is made of multiple layers glued together perpendicular to each other, which maximizes the strength. Plywood Cabinet Beds also have the longest lasting construction, mainly because the screws that hold up your door hinges and drawer tracks are securely anchored in the layers of the plywood and won't loosen or strip.
CabinetBed offers multiple mattress options. All of which are made with the highest quality foams which ensure you are not only getting great sleep, but you can sleep easy knowing your CentiPUR-US® certified mattress is also safe. Our carefully designed Cabinet Beds also feature the industry's largest storage compartment at 59 inches, which is perfect for linen and pillow storage.
Why sacrifice living space for an extra bedroom? Enjoy your space while also offering one of the most comfortable sleep solutions. Cabinet Beds are set up within 30 seconds and take less than a 1/3 of the space of a regular bed.
| | Deluxe | Premium | Value |
| --- | --- | --- | --- |
| Styles | Stanley, Urban, Cottage | Park Avenue, Country Style, Metro | Sydney, Austin, Cape Cod, West Wind, Harrison |
| Sizes Available | Twin, Full, Queen | Full, Queen | Queen |
| Side Panels | Solid | Open | Solid |
| Front Panels | Flat, Raised, or Grooved | Flat, Raised, or Grooved | Flat, Raised, or Grooved |
| Stain Options | 10 Stains, 2 Paints | 10 Stains, 2 Paints | 2 Stains |
| Mattress Options | 5 | 5 | 1 |
| Solid Plywood Construction, Premium Hardware and Hinges | | | |
| Custom Hardware and USB/AC outlet module | Optional | Optional | N/A |
| | | | |
CabinetBed Inc. is a Canadian manufacturer of space-saving sleep solutions ideal for small space living, apartments, condos, cottages, offices, spare rooms, and college dorms. Your Space Saving Sleep Solution™... a Cabinet that turns into a Bed in seconds.