Monterey Full Size Natural Futon Set
Set Includes:
Hardwood Futon Frame
Futon Mattress
Solid Collection Futon Cover (Half Price Any Color)
Optional Set of 2 Solid Pillows (20" x 20")
Limited Time Offer — FREE No Slip Pad! Keeps your mattress from sliding off.
If you want to upgrade the package with items that are not included in this listing — give us a call.
All products are covered by manufacturers' warranties.
Please note that images are for reference only. Please refer to overview and specifications to determine what items are included since sometimes the image may show more or less items. If not sure, please contact us and our customer service will be glad to help. Drawers and coffee tables are optional and have to be purchased separately. Assembly required unless stated otherwise.
Suggested Add-on

Futon Grip Strips
is a necessary item for high performance futons. Grip Strips effectively keep your futon mattress in place and keep it from sliding down in the frame.
Manufacturer:
Prestige Furnishings
Dimensions

:
79.25"L x 37"D x 34"H
Bed Position

:
79.25"L x 54"D x 22"H
Finish/Color

:
Light Brown
Customers Also Viewed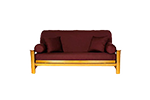 Futon Covers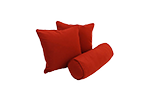 Throw Pillows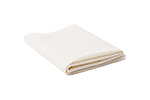 Non-Slip and Grip Pads
Since 1997, the name Prestige Furnishings has been synonymous with quality, comfortable, high value futons, futon covers and functional furniture. They know that customers have many choices. That's why they work so hard to make sure that we're not merely a choice, but your best choice.
Whether you need a slip cover for a cot, chair, bed or a multitude of other things Prestige Furnishing has something for everyone! Featuring three sided zippered closure to make sure it fits snuggly on all of your pieces. Prestige offers covers for everyone's needs and promises to impress your visitors. Update your furniture today with stylish slip covers or pillows from Prestige Furnishings.
Prestige is a trusted name in furniture industry.

More from Prestige Furnishings