Spacely Futon Daybed/Lounger with Mattress Reconstruction
This unique and versatile lounger easily converts from a chair to a lounger or bed. This contemporary, stylish, metal frame features a black powder-coated finish and is highlighted with a stylish upholstered mattress and two pillows.
Features:
Sturdy metal frame
Multiple position arm settings
Decorative tufted on cover
Sit, lounge, and sleep postion
Metal and Fabric
Fabric Color: White, Sage
Frame color: Black Metal
Fabric content: 100% Polyester
Mattress Specs: Cotton, High Density Foam, Hand Tufted
Dimensions:
Mattress: 80L x 32W x 6H
Frame: 60L x 33D x 41H
Please note that images are for reference only. Please refer to overview and specifications to determine what items are included since sometimes the image may show more or less items. If not sure, please contact us and our customer service will be glad to help. Drawers and coffee tables are optional and have to be purchased separately. Assembly required unless stated otherwise.
Dimensions

:
60L x 33D x 41H
Bed Position

:
80L x 32W x 17H
Customers Also Viewed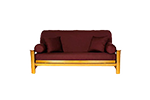 Futon Covers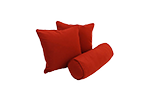 Throw Pillows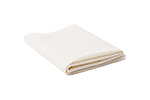 Non-Slip and Grip Pads
World Salvage was founded in 1986 when Greg Meitz opened a furniture retail location in Minneapolis, Minnesota. In 1989 his son Patrick converted the retail business into a furniture wholesale business called Minneapolis Furniture.
Patrick's brother David joined the wholesale business in 1992. Shortly after David's arrival, the company began manufacturing mattresses, box springs, and futon mattresses.
In 1997 Minneapolis Furniture changed their business name to Kodiak Furniture, which reflected the rustic nature of many of their products. Today Kodiak Furniture continues manufacturing mattresses, as well as futon mattresses. In addition to mattress production, Kodiak acts as an import broker for futon frames and other similar specialty sleep products.