Savannah Full Size Futon Set - Made in USA
Quantity:
Not Available
This item is likely discontinued by the manufacturer and is out of stock.
Please contact us for further assistance.
Set Includes:
Unfinished Hardwood Futon Frame
Futon Mattress
Solid Collection Futon Cover (Half Price Any Color)
Optional Set of 2 Solid Pillows (20" x 20")
Limited Time Offer — FREE No Slip Pad! Keeps your mattress from sliding off.
If you want to upgrade the package with items that are not included in this listing — give us a call.
All products are covered by manufacturers' warranties.
Please note that images are for reference only. Please refer to overview and specifications to determine what items are included since sometimes the image may show more or less items. If not sure, please contact us and our customer service will be glad to help. Drawers and coffee tables are optional and have to be purchased separately. Assembly required unless stated otherwise.
Suggested Add-on

Fully protect your mattress by using
Protect-A-Bed
Bedding Protectors. Protect-A-Bed protectors give you a complete bedding solution for your mattress, box spring and pillows. You'll rest easy knowing you have a healthy, allergy free or bed bug free sleep zone.
Dimensions

:
80"L x 37"D x 29.5"H
Bed Position

:
80"L x 54 7/8"D x 22 1/8"H
Finish/Color

:
Light Brown
Customers Also Viewed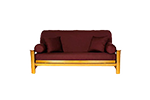 Futon Covers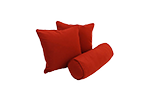 Throw Pillows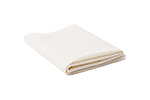 Non-Slip and Grip Pads
KD Frames is an American corporation based in Athens, Georgia, and owned by Alan Bowden. We produce unfinished hardwood futon frames from kiln dried tulip poplar grown in the Southern Appalachian mountains. We have gotten where we are by producing high quality, long lasting furniture and giving our customers the best service possible.
Alan started building futon frames in a garage in his back yard in 1986 with his friend Tom Reynolds. They incorporated in 1987 and moved to a larger building. Alan bought Tom's half of the company in 1992 when Tom was ready move on. Alan then leased a 5600 square foot building and got serious about manufacturing futon furniture. Ten years of steady growth has paid off with the recent purchase of a 37,000 foot building with ample space for production, warehousing and room to grow.
Knockdown Frameworks, Inc. warrants all of its products for five years against any defects that are due to faulty materials or workmanship. We will promptly correct such defects by repair or replacement, at our option, without charge. This warranty covers product defects only and will expire five years after date of purchase by the original consumer purchaser, with proof of purchase required. This warranty does not apply to damage caused by and resulting from misuse, neglect, accident, or improper operation, maintenance, storage, transportation, or handling of the product. This warranty is for the original consumer purchaser for residential use only and does not apply if the product is used in any commercial application (such as rental property). This warranty does not cover any incidental or consequential damages.

More from Prestige Furnishings