Ultraform Mattress w/Fully Orthopedic Spring Supported System by Sunset
The perfect choice for those who prefer a fully orthopedic and spring system supported mattress. You'll get a healthy and comfortable sleep with Ultraform mattress made of full support foam and extra resilient bonel spring system. The developed technology of Ultraform mattress helps distribute the weight of the body evenly throughout the mattress. Relax right for optimum health and vitality.
Bonel Spring System Developed for those who want semi stiff mattress. This system is extensively used throughout the world. Keeps its quality for long years without getting deformed. Bonel Spring Systems are made of high carbon steel wires, and resistance is increased by heat treatment. The Bonel Spring System is made of springs interconnected with sprial form steel wires.
Mattress Height: 15"
Please note that mattress sizes and images are for reference only.
Suggested Add-on

Fully protect your mattress by using
Protect-A-Bed
Bedding Protectors. Protect-A-Bed protectors give you a complete bedding solution for your mattress, box spring and pillows. You'll rest easy knowing you have a healthy, allergy free or bed bug free sleep zone.
Manufacturer:
Istikbal (Sunset Furniture)
Warranty

:
15 Years Limited Warranty
Mattress Construction

:
Foam, Innersprings
Size

:
Twin, Full, Queen, Eastern King
Since its establishment in 1957 and based on years of experience attained from a 50-year long success story, Istikbal has succeeded in becoming the furniture sector leader and takes a deserved place amongst Turkey's most respected brands in terms of selection, unique designs and a commitment to quality. Istikbal adds value to the sector and creates new venues.
Istikbal's consumer-oriented approach helps reflect the sectors needs and expectations of the product in every sense. They go to great lengths to keep up to date with home decoration and forecast future trends so that we can continually develop our production and service processes. By blending years of experience in the sector with innovative designs, modern production, and marketing approach, Istikbal seeks to raise the bar in the furniture sector.
Istikbal was established to provide quick service, high-quality product, and value-based prices for US based clients. Istikbal has a long history of great product being delivered with great service, it is just another proof of their commitment to quality service and product. The focus is on selection, and value.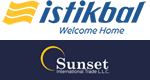 More from Istikbal (Sunset Furniture)