Burlington Cherry Oak Full Futon Set
Set Includes:
Hardwood Futon Frame
Futon Mattress
Solid Collection Futon Cover
Optional Set of 2 Solid Pillows (20" x 20")
Limited Time Offer — FREE No Slip Pad! Keeps your mattress from sliding off.
If you want to upgrade the package with items that are not included in this listing — give us a call.
All products are covered by manufacturers' warranties.
Please note that images are for reference only. Please refer to overview and specifications to determine what items are included since sometimes the image may show more or less items. If not sure, please contact us and our customer service will be glad to help. Drawers and coffee tables are optional and have to be purchased separately. Assembly required unless stated otherwise.
Suggested Add-on

Futon Grip Strips
is a necessary item for high performance futons. Grip Strips effectively keep your futon mattress in place and keep it from sliding down in the frame.
Customers Also Viewed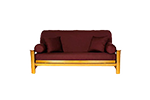 Futon Covers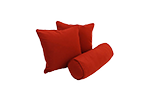 Throw Pillows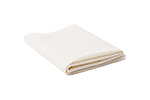 Non-Slip and Grip Pads
In 1899, Gold Bond began making mattresses in a four-story brick building a stone's throw from the Connecticut River in Hartford. As Gold Bond grew, they introduced their own specially blended cottons and wider distribution. As the word spread about their luxurious mattresses so did the orders. Gold Bond's unique methods, pure cotton and hand-made components has reached perfection, and continues to touch newer bars.
Today, Gold Bond is not only known as a superior quality leader in the mattress industry, it is also world renowned for making the finest futon mattresses. Gold Bond futon mattresses allowed Gold Bond to diversify into a niche market where they knew they could provide superior quality and comfort. Gold Bond led the way into high quality, highly comfortable futon mattresses. Following Isador Naboickeck's dedication to comfort and consistency, again Gold Bond pioneered the way to thicker, more substantial futon cushions that fit America's void for a luxurious sleeper sofa.
Beginning in the 1980's the demand for futons literally exploded and continued to expand with Gold Bond correctly poised in the middle to provide a superior sleep product. Today, Gold Bond remains the most recognized name brand in futon mattresses. All the while, they have stayed true to their core ethics of providing mattresses that promise quality, comfort and longevity.
Futonland proudly continues its relationship with Gold Bond for more than 15 years. The consistency in quality and service is the main factor behind their successful contribution to furniture market.