The Liberty Futon Mattress works with any futon frame and is one of the premium firm 8" futon mattresses with a special characteristic of two different types of foam resulting in a supportive feel. The 9" blend of high performance foam used in the Liberty futon mattress is dynamically pressurized to fit into 8" of space resulting in a luxurious feel. The Liberty futon mattress has a 9" blend of high performance foam (containing two layers of minimum 2.0 pound density foam and four layers of minimum 2.5 pound density foam) that benefits you with a mattress that looks and feels great. Machine tufting, a double layer of polyester, tape edge closing, and 7.5 oz twill fabric gives this futon mattress its final look and feel.
7-1/2 oz twill fabric provides proper strength to hold the tuft in the mattress.
9" of high-performance foam, 2 layers of minimum 2.0 pound density plus 4 layers of 2.5 pound density provides the ability to keep the mattress looking and feeling good.
A double layer of polyester gives the mattress a clean finished look.
Machine tufting reduces the thickness of the mattress to lock in it's look and feel.
The tape edge closing process insures proper fit and finish of the mattress cover.
Mattress Making Principle
For a mattress to retain its shape and comfort level the materials it is filled with must be able to retain their shape and supportive character.
Why More Foam Than Cotton Is Critical
Simply put, foam is able to retain its shape and feel when repeatedly compressed while cotton fibre does not. Foam is a flexible solid that will come back to its original shape after being compressed time after time. Cotton batting is not a unified whole, but an arrangement of individual fibers. Once the fibers are compressed together there is nothing to bring them back to their original, separate locations when the weight is removed. This fact results in cotton batting becoming thinner and harder wherever it is being compressed on a regular basis.
Why You Should Trust This Mattress
We trust the materials that go into each of our mattresses. so much so, that each mattress is compressed and packaged in a box 1/4th its size. Our mattresses are filled with comfortable materials that retain their shape for years. The way we package it proves it.
Please note that mattress sizes and images are for reference only.
Suggested Add-on

Futon Grip Strips
is a necessary item for high performance futons. Grip Strips effectively keep your futon mattress in place and keep it from sliding down in the frame.
Mattress Construction

:
Foam
Size

:
Ottoman, Chair, Twin, Twin Split, Twin Ottoman, Full, Loveseat, Love Ottoman, Queen, Queen Split, Queen Ottoman, Eastern King
Mattress Type

:
Futon Mattress
Customers Also Viewed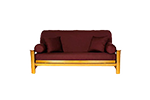 Futon Covers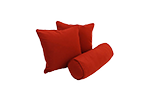 Throw Pillows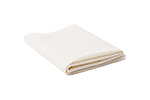 Non-Slip and Grip Pads
Otis is a privately held Corporation located in Buffalo, a popular port city in Western New York that borders Canada, where in 1882 one man named - George Otis - began to produce handmade mattress and box spring sets and delivered those sets by horse and buggy. Three generations later, the same family still holds ownership and has strengthened their position in the industry by servicing: Private and State Universities, the Government, the US Military, the US Coast Guard, Naval Parks, prisons, hospitals and nursing homes, private interior decorators, and literally thousands of furniture and bedroom retailers nationwide.
Over a century since its inception, Otis Bed Manufacturing grew to become the largest and most respected mattress manufacturer in Western New York that produces high performance sleep & cushioning systems for the consumer and medical products market. Their designers and engineers incorporate the most advanced technologies with old-world quality craftsmanship that has set the standard for durability, quality and comfort in the industry.
All of Otis products are UPS-able anywhere in the world!
It is our mission is to create and maintain win/win interdependent relationships. We pledge to act with uncompromising integrity and respect for one another. We are dedicated to total customer satisfaction by providing comfortable products, outstanding value, and verifiable quality to the communities we serve.