Tulsa Futon Set with Pillows
Limited time offer - Order now while supply lasts
Quantity:
Tulsa Futon Set by Primo International
Complete futon Set, all in one box includes: the Wooden arms, Metal Body /w Mechanism and an 8 inch pocket coil Futon mattress. Futon Mattress Featuring 390 count pocket coils and Microsuede not removable Futon cover and 2 Free Pillows
Specifications:
Type FR Microfibre
Fabric Lavish
Color Herbal
Size 8" Full
Attribute Pocket Coil
Please note that images are for reference only. Please refer to overview and specifications to determine what items are included since sometimes the image may show more or less items. If not sure, please contact us and our customer service will be glad to help. Drawers and coffee tables are optional and have to be purchased separately. Assembly required unless stated otherwise.
Manufacturer:
Primo International
Dimensions

:
82"L x 39.5"D x 38"H
Bed Position

:
82"L x 53"D x 17"H (Matt. Top)
Special Features

:
Pocket Coil Futon Mattress with 2 Free Pillows
Material

:
Metal, Hardwood
Customers Also Viewed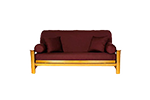 Futon Covers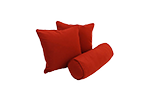 Throw Pillows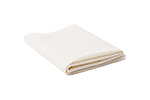 Non-Slip and Grip Pads
As a Top 10 Canadian importer of fine furniture, Primo International is a leader in fine quality leather and fabric furniture. With styles ranging from traditional to uniquely contemporary, Primo International furniture offers a variety of fabric and fine quality leather chairs, sofas, recliners, and customizable sectional sets. Committed to improving your enjoyment of your home, Primo also offers solid wood casual dining sets, functional and stylish futons, and youth furniture. Their collection of mattresses includes the Primo Utopia mattresses, with multiple layers of memory foam designed to give you an exceptional night's sleep and a 20 year prorated warranty for peace of mind. Buy today and experience the quality and comfort of Primo International.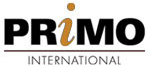 More from Primo International