Flair Black Loveseat Futon Frame
Quantity:
Not Available
This item is likely discontinued by the manufacturer and is out of stock.
Please contact us for further assistance.
Flair Futon Frame
Flair Futon Frame from Strata Furniture is a contemporary futon design. It is crafted from carefully selected hardwood timber.
Flair belongs to Carriage Collection of Strata Furniture, a collection with unique designs. Each stile of the arm sides is carefully steam bent by the master woodworkers at Strata Furniture. These elegant lines will instantly bring a trendy feel to your home.
This frame is a truly wall hugger, its unique design allows you to convert it to a bed without moving the frame away from the wall. Another name is zero tolerance futon. Strata Furniture is the only futon frame company that makes a true wall-hugger zero tolerance futon. This is because its design allows the base to stay stationary while the back and seat extend outward.
Features
Wall hugger Futon. Convert your futon without having to move away from wall
Front Operation. Easy conversion with any type of futon mattress
Luxury Grade Futon. Enjoy upscale furniture with futon functionality
Fine Craftsmanship. Superb quality makes this futon a sound investment
Thicker Stretcher Rails. Gives you a more robust futon for heavier use
Easy to Assemble. Everything is guaranteed to line up & fit together
5 Year Limited Warranty. Manufacturer's commitment to quality and workmanship
Available Sizes
Twin Chair W50.5" x D36" x H28"
Twin Chair Ottoman W38.875" x D20.75" x H10.75"
Loveseat W65" x D36" x H28"
Loveseat Ottoman W53.875" x D20.75" x H10.75"
Queen Loveseat W71" x D36" x H28"
Queen Loveseat Ottoman W59.75" x D25.75" x H10.75"
Full W86" x D36" x H28"
Queen W91.5" x D36" x H28"
Available Colors/Finishes:
Dark Cherry
Black (Twin Chair and Twin Ottoman available in Dark Cherry Only)
Please note that images are for reference only.
Suggested Category

Get a complete
Futon Set
and save. Futon sets include a frame, a mattress, and a futon cover of your choice. We'll even include a
Non-Slip Pad
at no additional cost.
Product Type:
Futon Frames
Manufacturer:
Strata Furniture
Sofa Position

:
W65" x D36" x H28"
Warranty

:
Five Year Limited Warranty
Many futon companies today have become so concerned with being the cheapest they have lost sight of the important details of creating lasting furniture. At Strata they feel futons should have the look of conventional furniture with the versatility of a futon. Strata believes consumers should get a high quality product at a fair price. Of course, there are less expensive options, but as the adage says, You get what you pay for . All too often, a person buys an inexpensive frame and due to poor construction and/or design, their new purchase has already failed them. With Strata, spending a little extra guarantees a long lasting addition to your home.
Strata offers many distinct advantages over any other futon frames. Most importantly, all their frames feature a patented front-loading, wall hugger mechanism. This allows conversion of the frame from sofa to bed without moving the frame away from the wall. Who wants to move a heavy frame and mattress from the wall in order to go to bed? Place the frame next to the wall and the front loading mechanism allows you to convert the frame from sofa to bed quickly and easily. Unlike typical futons, having a wall hugger ensures you will not scratch or dent your walls. As they say at Strata: Are Your Walls Safe? Comparing the competition will leave only one brand of frame standing-and not moving-Strata Furniture.
Strata offers two distinct collections of frames. Signature Collection features frames with a finished back. Strata is the only futon company that offers this unique design. The finished back combines the look of a conventional sofa with the versatility of a futon frame resulting in a piece of furniture that looks beautiful from any view. In the bed position, these stunning frames appear more like a daybed than a futon.
Carriage Collection continues our tradition of stylish frames with unique designs. These frames incorporate the same patented front-loading, wall hugging mechanism used in the Signature Collection. The hidden hardware, wide variety of finishes, and sturdy construction make our frames unequaled in the marketplace.
Strata frames are built at a quality manufacturing facility according to rigid standards and quality control procedures. Strata expect each product to not only look great and operate smoothly, but also to be extremely well built and to last.
Strata Furniture frames are well-known for their strength and construction. Their product design utilizes more wood to ensure durability and comfort by better supporting the mattress.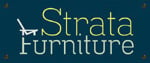 More from Strata Furniture