Serenity (Cooler) Mattress Eurotop by Sunset
Sleep...the essential for a healthy life. Considering we spend a third of our lives asleep, the importance of sleep is all the more apparent. Staying cool is an important factor for sound sleep.
Features:
Individually wrapped pocket coil, heavy gage, tempered steel unit
3" Border High-Density Foam Encasement (Additional sleeping surface, added edge support)
Convoluted Foam (Helps air to flow through layers, additional comfort)
Hybrid (Pocket Coil & Visco Gel)
Mattress Height 11"
Cooler Fabric maximizes sleep quality by providing a relaxing sleep environment
Feel refreshed, and fall asleep quicker with the extra comfortable environment
Regulation of body temperature is one of the most significant parameters in terms of sleep quality
Cooler has a high-temperature flow capacity due to its thermal conductivity features
When Cooler is compared with cotton and polyester fabrics under a thermal camera, differences between the surface temperature changes are prominently
Ticking features tested and confirmed in various universities and accredited laboratories around the world
Please note that mattress sizes and images are for reference only.
Manufacturer:
Istikbal (Sunset Furniture)
Warranty

:
15 Years Limited Warranty
Mattress Construction

:
Eurotop
Size

:
Twin, Full, Queen, Eastern King
Since its establishment in 1957 and based on years of experience attained from a 50-year long success story, Istikbal has succeeded in becoming the furniture sector leader and takes a deserved place amongst Turkey's most respected brands in terms of selection, unique designs and a commitment to quality. Istikbal adds value to the sector and creates new venues.
Istikbal's consumer-oriented approach helps reflect the sectors needs and expectations of the product in every sense. They go to great lengths to keep up to date with home decoration and forecast future trends so that we can continually develop our production and service processes. By blending years of experience in the sector with innovative designs, modern production, and marketing approach, Istikbal seeks to raise the bar in the furniture sector.
Istikbal was established to provide quick service, high-quality product, and value-based prices for US based clients. Istikbal has a long history of great product being delivered with great service, it is just another proof of their commitment to quality service and product. The focus is on selection, and value.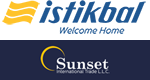 More from Istikbal (Sunset Furniture)