Biorytmic Mattress Eurotop by Sunset
Biorytmic Sleep mattress ticking developed by Sleepist is attained by aligning certain minerals found in nature known for their energy content in a certain geometric composition. Factors like stress from daily life, hard work, sleep deprivation and fatigue result in numerous communication disorders within the body. The goal of Biorytmic Sleep mattress ticking is to regulate the poor intra-body communication attributed to any one of these causes, during sleep.
Features:
Individually wrapped pocket coil
Gel Memory Foam
3" Border High Density Foam Encasement (Additional sleeping surface, added edge support)
Convoluted Foam (Helps air to flow trough layers, additional comfort)
Hybrid (Pocket Coil & Visco Gel)
Mattress Height 13"
Supports rejuvenation by improved intra-body communication during sleep
Reduces stress level during sleep
Helps the body relax
Helps you feel better
Helps you wake up refreshed
Intra-body communication helps improve balance and concentration
Improves body conditioning and mechanical balance
Please note that mattress sizes and images are for reference only.
Manufacturer:
Istikbal (Sunset Furniture)
Warranty

:
15 Years Limited Warranty
Mattress Construction

:
Eurotop
Size

:
Twin, Full, Queen, Eastern King
Mattress Type

:
Conventional Mattress
Since its establishment in 1957 and based on years of experience attained from a 50-year long success story, Istikbal has succeeded in becoming the furniture sector leader and takes a deserved place amongst Turkey's most respected brands in terms of selection, unique designs and a commitment to quality. Istikbal adds value to the sector and creates new venues.
Istikbal's consumer-oriented approach helps reflect the sectors needs and expectations of the product in every sense. They go to great lengths to keep up to date with home decoration and forecast future trends so that we can continually develop our production and service processes. By blending years of experience in the sector with innovative designs, modern production, and marketing approach, Istikbal seeks to raise the bar in the furniture sector.
Istikbal was established to provide quick service, high-quality product, and value-based prices for US based clients. Istikbal has a long history of great product being delivered with great service, it is just another proof of their commitment to quality service and product. The focus is on selection, and value.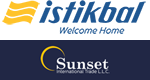 More from Istikbal (Sunset Furniture)