Click Clack Java Jet Sofa Bed Convertible Chair Bed Lounger
Quantity:
Not Available
This item is likely discontinued by the manufacturer and is out of stock.
Please contact us for further assistance.
The Jet/Ninja Game Chair by Lifestyle Solutions
Beautiful Lounger Chair folds out to a Bed in seconds
Adjusts to multiple positions with the European designed Click Clack System
Sturdy Microsuede cover
The Jet manufactured by Lifestyle Solutions exhibits the highest standards of workmanship. The soft Micro Suede Fabric and comfortable cushioning are supported by a solid wooden frame built from sustainably managed woods, fitted with premium spring supports, and held together by the Click and Clack Adjusting System.
Finally, the perfect guest bed for small spaces! The Jet bed lounger is a comfortable chair to relax and watch TV, and then transforms in seconds to a single sized bed for a visiting family member or guest. This fold out chair to bed features the European Click Clack Adjustment System for ease of use and smooth, multi-position functioning. It is built to last. We offer the Jet Convertible Chair Bed in a Single Twin Size only just right for one person.
Ninja Casual Convertible is a versatile single seater and bed. Sectioned into three, Ninja can be customized for a variety of position levels. It has 3 points where angles may be adjusted independently according to the desired comfort level.
Microsuede Fabric provides a silky smooth feel and unsurpassed comfort to your new Jet Personal Fold Out Chair to Bed.
Features
Cover is button-tufted and constructed of micro-suede
Cushion is constructed of high elasticity foam and the top is layered with poly fiber, to insure total comfort
Frame is made of tropical wood
Contemporary, versatile Euro Design
8" foam cushion
Fabric is tufted, colored micro-suede
Meets FR 117 Fire Retardant Code
Dimensions
Chair: 22.05"L x 69"W x 7"H
Flat Bed: 22.05"L x 70.08"W x 7.09"H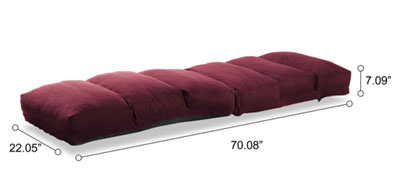 Minor Assembly Required
Warranty One-Year Parts Replacement
Please note that images are for reference only. Minor assembly required unless stated otherwise.
Product Type:
Convertible Sofas
Manufacturer:
Lifestyle Solutions
Founded in 1989, Lifestyle Solutions is one of the fastest growing young furniture companies in the United States. Since the launch of our signature sofa bed convertible in 1990, their patented Cradle Converter and patented Vise-Protection System have been widely adopted as the industry standard. In 1999, they took the bold step of launching LS Bedroom collections. Today, bedroom products are featured in quality furniture stores, like ours, in towns and cities throughout North America and abroad.
What makes Lifestyle Solutions different from the rest? Their commitment to quality is second to none. All furniture is put through a rigorous multi-step process to ensure theconsistency and durability of at all times. At Lifestyle Solutions they believe in creating fashionable and functional furniture that complements today's active lifestyle. Their furniture reveals anintimate knowledge of design and an understanding of our customer's lives and aspirations. The right look and feel was carefullycoordinated to allow our customer to experience the comfort and style of the furnishings they have chosen for years to come.
Whether our customers prefer sleek contemporary styling or more classic designs, they're confident they'll find what they're looking for from among a wide selection. At Lifestyle Solutions, they employ the latest in packaging technology to protect our order from any possible damage duringhandling and transportation. To ensure that it reaches us in the best condition possible, they use Mold Injected Foam,a made-to-measure foam that hugs the furniture snugly for superior cushioning at all times. Their manufacturing process has been certified for compliance with International Tropical TimberOrganization (ITTO) guidelines for sustainable management of tropical forests. All their bedroom suitesare constructed from plantation-grown imported hardwood to ensure sustainable use of timber.

More from Lifestyle Solutions