Super EZ Sofa Full Size Futon Set
Quantity:
Not Available
This item is likely discontinued by the manufacturer and is out of stock.
Please contact us for further assistance.
Package Includes:
Pinewood Futon Frame
Futon Mattress
Solid Collection Futon Cover
Optional Set of 2 Solid Pillows (20" x 20")
Limited Time Special — FREE No Slip Pad! Keeps your mattress from sliding off your futon.
Cover Choices:
Black
Blue Bonnet
Gold
Gray
Khaki
Purple
Navy
Red
Royal
Ruby
Teal
Hunter Green
Natural
Standard package items can be up. If you want to upgrade the package with items that are not included in options — give us a call or leave your comments during checkout.
All items are covered with manufacturer's warranty.
Please note that images are for reference only. Please refer to overview and specifications to determine what items are included since sometimes the image may show more or less items. If not sure, please contact us and our customer service will be glad to help. Drawers and coffee tables are optional and have to be purchased separately. Assembly required unless stated otherwise.
Manufacturer:
Collegiate Furnishings
Bed Position

:
75 3/4"L x 10"H x 56"W
Founded in 1989, Collegiate Furnishings Inc. designs and manufacturers a unique line of ready-to-assemble, solid-wood furniture that is eco-friendly, American Made, strong and durable, highly functional and aesthetically pleasing. Their talented central Pennsylvania workforce, coupled with leading edge furniture designs and a relentless pursuit of efficiency in furniture manufacturing processes have been the keys to success in the furniture business.
Their unfinished furniture designs are incredibly economical, without sacrificing strength or quality, and are perfectly aligned with the consumer needs of today. Given the modern day economic climate, furniture designs can and should fill a very important role. Collegiate Furnishings lineup of unfinished eco-friendly furniture helps preserve the American furniture making tradition.
Affordable Unfinished Wood Furniture Designs.
Collegiate eco-friendly, unfinished wood furniture lineup was created with one prevailing idea in mind; The Difference is in the Design. That has been their motto from day one and they have always strived to live up to it. Many years ago Collegiate received a patent for very first solid wood futon frame design - the Super EZ Sofa Bed Frame which still holds the market because it is quite simply one of the best selling frames in its class. Since that first patent was issued, Collegiate have since been granted three more because of their solid wood furniture designs stand the test of time. All of our solid wood futon, bunk, loft and platform bed frames are easy to assemble and built to last a lifetime. Better yet, most of their furniture parts are designed to be easily replaced if damage does occur. The Difference is obvious! Choosing the Collegiate Furnishings lineup means you are choosing American-made quality from an experienced and established eco-conscious company, with superior furniture design. You will not find better unfinished furniture manufactured anywhere in the U.S.A., you deserve the best furniture for your hard earned money.
Eco-friendly Southern Yellow Pine
Nearly all Collegiate Furnishings products are made from Southern Yellow Pine (SYP), the strongest and hardest in the softwood family. In fact, Southern Yellow Pine has 80% of the strength of Oak. This makes it an incredibly smart wood to build furniture with. Because of its strength and beauty, SYP was the material of choice for flooring before hardwood flooring came into vogue in old homes throughout New England. While flooring and moldings are still common applications today, SYP is most commonly seen used for such demanding applications as stair treads, wooden ladders and engineered structural components. The wood has a beautiful, distinctive grain structure (the hard summer wood interlaced with the softer spring wood) that once stained resembles oak or ash.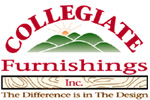 More from Collegiate Furnishings