Tacoma - Harness Reclining Loveseat Signature Design
Quantity:
Not Available
This item is likely discontinued by the manufacturer and is out of stock.
Please contact us for further assistance.
With an eye-catching contemporary design along with the plush comfort you can really relax within, the "Tacoma-Harness" upholstery collection is the perfect fusion of style and comfort. The padded pillow top arms and the plush divided back create a supportive comfortable collection that is a perfect addition to any living room decor. With the rich beauty of the faux leather upholstery, the "Tacoma-Harness" upholstery collection enhances the look and feel of any home's decor.
Loveseat Dimensions
Please note that images are for reference only.
Manufacturer:
Signature Design by Ashley
Signature Design by Ashley Furniture doesn't require extra words to introduce them. With over 50 years of innovation and experience in the furniture industry, The Signature Design by Ashley Furniture has become an industry leader as a manufacturer of quality furniture products.
Arcadia, WI is the headquarters of manufacturing, assembly and administration for what is now known as The Ashley Furniture Companies. Today, Signature Design by Ashley Furniture has over 3 million square feet of facilities spread over six different locations. Signature Design by Ashley Furnituresearches the world for the best values and designs in home furnishings and accessories. Signature Design by Ashley Furniture manufactures its own products in the United States and also purchases components and products from other countries. Their intention is to give you the best value for your hard earned money; therefore, they offer both domestic-made and imported items to fit a variety of decorating needs and budgets. The direction and leadership of Ashley's owners have positioned Signature Design as a furniture industry leader and world class manufacturer.
The House of Signature Design by Ashley Furniture offers a fully integrated product line to take the guess work out of furnishing a home. Unique, coordinated products allow the buyer to choose from several combinations of furniture for living rooms, dining rooms, and bedrooms; all designed with matching materials and finishes.
The Ashley Companies commitment to being the best furniture company in the industry continues to drive improvements in all phases of the operation, with the customer's complete satisfaction in mind. This has been the model measurement of success at The Ashley Companies and highlights a 50 year tradition of superior craftsmanship and innovative design in the furniture industry.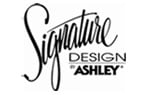 More from Signature Design by Ashley